Upcoming movies and shows on Netflix
January 13, 2021
Upcoming movies and shows on Netflix in the United States, the United Kingdom, Canada, and Australia in 2021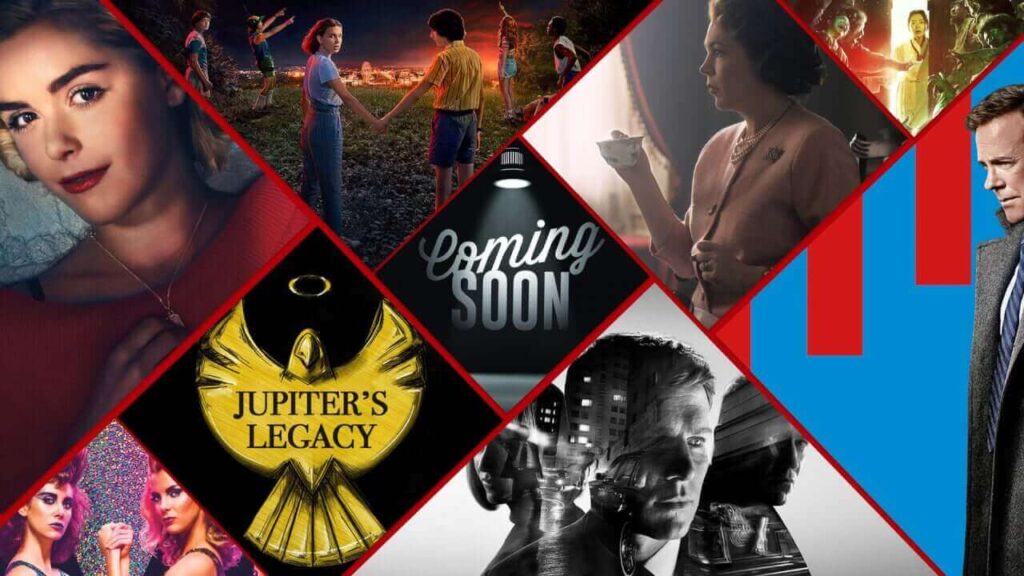 Upcoming movies and shows on Netflix:- Looking for what's coming to Netflix next? We've got monthly previews for the United States, the United Kingdom, Canada, and Australia plus roundups of upcoming Netflix Original movies and TV series.
You can also find a look at what's coming soon with our release calendar listed below too.
What movies fair & show fair coming on Netflix.
Here's the Upcoming movies and shows on Netflix release schedule for Netflix Originals for the next few months.
1. January 15th, 2021
(A) Name – Carmen Sandiego (Season 4)
Type:- TV Series
Summary:- The adventures of Carmen Sandiego, a globe-hopping master thief.
(B). Name – Disenchantment
Type – TV Series
Summary:- Princess Tiabeanie, 'Bean', is annoyed at her imminent arranged marriage to Prince Merkimer. Then she meets Luci, a demon, and Elfo, an elf, and things get rather exciting, and dangerous.
2. January 19th, 2021
(A) Name:- Hello Ninja (Season 4)
Type:- TV Series
Summary:- When Wesley puts his hands together, bows to his reflection, and says the words, "Hello, Ninja" his surroundings instantly transform into an enchanting Ninja world.
3. January 22nd, 2021
(A) Name:- The White Tiger
Type:- Movie
Summary:- The epic journey of a poor Indian driver who must use his wit and cunning to break free from servitude to his rich masters and rise to the top of the heap.
(B) Name:- Jurassic World Camp Cretaceous (Season 2)
Type:- TV Series
Summary:- Six teens attending an adventure camp on the opposite side of Isla Nublar must band together to survive when dinosaurs wreak havoc on the island.
4. January 27th, 2021
(A) Name:- Bonding (Season 2)
Type:- TV Series
Summary:- A New York City grad student moonlighting as a dominatrix enlists her gay BFF from high school to be her assistant.
Upcoming movies and shows on Netflix Coming in February 2021
It may be the shortest month of the year but that doesn't mean Netflix isn't prepping to keep it plenty of new Netflix Originals for release throughout February 2021. Here are all the currently announced Netflix Originals for February 2021.
Before we begin, if you missed any of the previous months' Netflix Originals you missed a lot. You can see the full list of the Netflix Originals for January 2021 right here which will be updated right through the month.
This preview will be listed by English language titles first and non-English titles second. We'll then list each title by release date order.
(A) Kid Cosmic (Season 1)
Netflix Release Date: February 2nd
From the creator of The Powerpuff Girls, Craig McCraken, comes a new series from Netflix Animation that follows a young boy who dreams of having superpowers and after coming across cosmic stones, that dream seemingly comes true.
Among the voice artists for the series includes Fred Tatasciore, Amanda Céline Miller, and Jack Fisher.
(B) Mighty Express (Season 2)
Netflix Release Date: February 2nd
The creators of Paw Patrol return with their new Netflix train series aimed at kiddies for its second season early in February.
(C) Firefly Lane (Season 1)
Netflix Release Date: February 3rd
Based on the novel, this Netflix series will be your next obsession particularly if you enjoy shows like Virgin River or Sweet Magnolias.
The series follows two friends through several decades and how they stick together through thick and thin.
Among the cast for the series includes Katherine Heigl, Sarah Chalke, Ben Lawson, Beau Garrett, and Alissa Skovbye.
(D) Malcolm & Marie
Netflix Release Date: February 5th
Zendaya and John David Washington featured in this black and white film that was filmed through the pandemic at Caterpillar House in California. The movie follows a filmmaker returning home and the pair's relationship problems come to the surface during a tense evening.
(E) I Care a Lot
Netflix Release Date: February 19th
This movie headlined by Peter Dinklage, Rosamund Pike, and Eiza González was a high-profile pickup from the TIFF festival in September 2020.
The comedy thriller written and directed by J Blakeson follows a legal guardian who is seemingly conning her elderly clients but gets found out.
(F) All My Friends Are Dead
Netflix Release Date: February 3rd
Langue: Polish
This Polish thriller is about a New Year's Eve that goes awry. When a party ends in a massacre, the movie retraces all the steps that led to the horrific event.
The movie actually released in cinemas in Poland over Christmas and released to mixed reviews.
(G) Invisible City
Netflix Release Date: February 5th
Language: Portuguese
Carlos Saldanha is a famed movie director and will be making the transition to TV in this new series.
Invisible City follows a police officer who works in the environment office and gets involved in a case involving a river dolphin and the death of his wife.
(H) Space Sweepers (2021)
Netflix Release Date: February 5th
Language: Korean
Big budget? Check. Excellent cast? Check. It's time for Space Sweepers to hit Netflix and it's going to be big.
Set in 2092, we follow the crew of spaceship Victory who are salvaging space debris but in one of their finds, they come across something completely unexpected.
Song Joong-ki, Jin Sun-kyu, Kim Tae-ri, and Yoo Hai-jin headline possibly the biggest Korean release on Netflix to date.
(I) The Yin Yang Master: Dream of Eternity
Netflix Release Date: February 5th
Language: Mandarin
Based on the Japanese fantasy novel Onmyōji, The Yin Yang Master: Dream of Eternity is a massive budget Chinese movie that stars Mark Chao and Allen Deng.C
Netflix also release some more new shows and movies in 2021 in all over the world. we will coming soon with more details.