Strategies for Success You Can Learn From Amazon's Jeff Bezos
January 13, 2021
Strategies for Success You Can Learn From Amazon's Jeff Bezos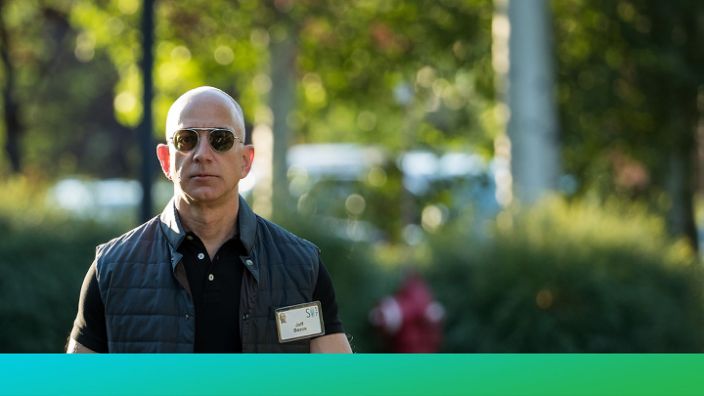 Strategies for Success:- I think no one in the world does not know Jeff Bezos the owner or founder of Amazon. But is anyone knows his Strategies for Success?
In August 2020, Jeff Bezos went where no rich guy had gone before when his net worth passed the $200 billion mark, the first in billionaire history. It was the most money any one human being had ever accumulated, even when adjusted for inflation.
Although his personal fortune is now down to about $182 billion, Bezos is still the richest man in the world, despite fending off a recent encroachment from Tesla's Elon Musk. Bezos owns 11% of Amazon, serves as its CEO and guiding light, owns the Washington Post and–like Musk himself–dabbles in space rockets on the side.
Even before the pandemic in 2019, Amazon was gobbling up 45% of combined U.S. e-commerce and counting. One in three Americans now has a Prime membership, but Amazon wasn't always a tech and retail behemoth.
Jeff Bezos took a big chance in launching the e-commerce giant, leaving behind a high-powered hedge fund job in 1994. Originally just an online bookstore, Amazon became the fastest company ever to hit annual sales of $100 billion in 2015, and in the second half of the 2010s, it grew to define global retail in the new economy and served as a gold mine for investors.
In 2009, Bezos described the corporate philosophy that led to the creation of the wildly successful Kindle. At the time, it was the company's bestselling product.
He explained that one strategy for entrepreneurs to succeed is to determine what they're good at and seek out a segment of the market that needs that skill. The other option, Bezos said, is to find out what customers need and hone your skills accordingly.
Amazon, which had never previously been in the tech business, took the second route with Kindle. E-books required e-readers, so Amazon developed one that customers loved–and love it they do. Nearly 15 years after its 2007 debut, the Kindle remains the greatest disruptor in the history of the centuries-old publishing industry.
In 2013, Bezos — who had no previous newspaper experience — bought the Washington Post for $250 million. The purchase raised eyebrows. After all, Bezos was a legendary innovator, and print journalism was a yesteryear industry that had been in a rapid decline since the arrival of digital media.
Bezos, however, didn't see it that way. Believing that the Post was a strong brand that employed many talented workers, Bezos opted to buy the company despite the state of the newspaper industry.
The way he saw it, the paper had two choices: accept the new reality, lean on its strengths and find a new way forward in the face of a changing world — or go the way of the dodo bird.
"What we need to do is always lean into the future," said Bezos in an ABC interview. "When the world changes around you and when it changes against you — what used to be a tailwind is now a headwind — you have to lean into that and figure out what to do, because complaining isn't a strategy."
By focusing on the needs of readers rather than advertisers, Bezos transformed the Washington Post into a modern, profitable enterprise that attracts paying subscribers. Within three years, the paper had doubled its online traffic.
Experiment and Learn From Your Attempts
For Amazon, the road to success was paved with experimentation. And while many of those experiments were successes, others resulted in spectacular failures, including the following famously ill-fated projects:
Fire Phone
Amazon Destinations travel site
Amazon Local
Amazon Auctions
ZShops
Rather than dwelling on his missteps, Bezos treats his business as a laboratory. As he recently told Fortune, "Experiments are key to innovation because they rarely turn out as you expect, and you learn so much."
Strategies for Success:- Swing for the Fences
Bezos didn't become the richest person in the world by playing it safe. On the contrary, the Amazon CEO's legendary failures have cost the company money — but his successes have earned Amazon billions.
For every Fire Phone or Destinations, there's an Amazon Prime, Marketplace or Web Services, the latter of which earned more than $35 billion in revenue in 2019 alone.
That's nearly three times the $12.2 billion Web Services earned just three years earlier in 2016 and 10 times the $3.1 billion it earned three years before that in 2013.
Noting that nine big swings out of 10 will be misses, Bezos has stressed the importance of continuing to aim for the fences, saying that the one that connects will be the equivalent of 1,000 home runs.
Bezos said, "Given a 10% chance of a 100 times payoff, you should take that bet every time."
Strategies for Success:- Be Skeptical of Processes and Protocols
Bezos has suggested that, as companies grow, they become too reliant on their standard systems and processes. While there's nothing wrong with having protocols in place, focusing on processes over outcomes can be dangerous. And, it's one of the biggest mistakes you can make when running a business.
"It's not that rare to hear a junior leader defend a bad outcome with something like, 'Well, we followed the process,'" Bezos said in the 2016 Letter to Shareholders.
That attitude, outlined by Bezos four years before the pandemic, helped it survive and thrive during the coronavirus crisis. When the virus hit and panic shopping swept America's stores and online retailers, Amazon's supply chains became clogged and overwhelmed.
Amazon's ability to break protocol, deviate from the established process, and adapt to changing circumstances, however, helped it emerge as one of the few businesses that grew and profited in the era of COVID-19.
Bezos refers to startups as "Day One" companies, noting that these businesses are constantly experimenting and seeking opportunities to grow. However, as businesses develop, they stop taking so many chances and become "Day Two" companies. Bezos said companies that stop innovating and pushing themselves are destined for failure