Halle Berry Shares Another Beautiful Bikini Photo
June 10, 2021
Halle Berry Shares Another Beautiful Bikini Photo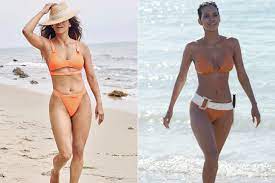 Halle Berry Shares Another Beautiful Bikini Photo of herself at the beach. Halle Berry has enjoyed a formidable career, from winning an Oscar in 2002 to starring in films such as Catwoman, X-Men, and James Bond's Die Another Day.
However, over the years the 54-year-old Cleveland, Ohio native has shown she's equally as talented in front of the camera as she is on the red carpet, from wearing embellished gowns by Atelier Versace, Monique Lhuillier and Elie Saab to numerous awards shows.
In recent months, Berry has joined a legion of actors like Salma Hayek and Jennifer Lopez in sharing photos of their athletic, toned physiques and celebrating their curves in a variety of bikini and swimsuit designs.
Berry recently opened up about her health regimen with Harper's Bazaar, and how she's embraced the power of social media.
Halle Berry Shares Another Beautiful Bikini Photo Of Herself At The Beach
Halle Berry In A Blue Triangle Bikini At The Beach, June 2021
The actor shared a photo of herself lounging at the beach in a blue printed triangle bikini and looking away from the camera.
Halle Berry Wears Black Backless Swimsuit And Hat, March 2021
Months after showing off her hip tattoo wearing the same swimsuit, the Oscar winner posted a snap of herself wearing this beautiful belted, backless black swimsuit and a trilby.
Halle Berry Wears Tie-Up Red Swimsuit, August 2020
In the photo the 54-year-old walks towards the camera wearing a red swimsuit with black lace tie-ups at the front.
Halle Berry Wears Black Lace Bikini, August 2020
Berry stunned in a black cut-out bikini at the beach last summer. The highwaisted bikini and crossover bikini top looks similar to a lingerie set and certainly turned up the heat on the coastline.
Also read these posts, https://news-fair.com/category/india/gallery/film-stars/