Madhya Pradesh Employment | MP Rojgar Panjiyan | Madhya Pradesh Employment Portal 2021
June 12, 2021
Madhya Pradesh Employment | MP Rojgar Panjiyan | Madhya Pradesh Employment Portal 2021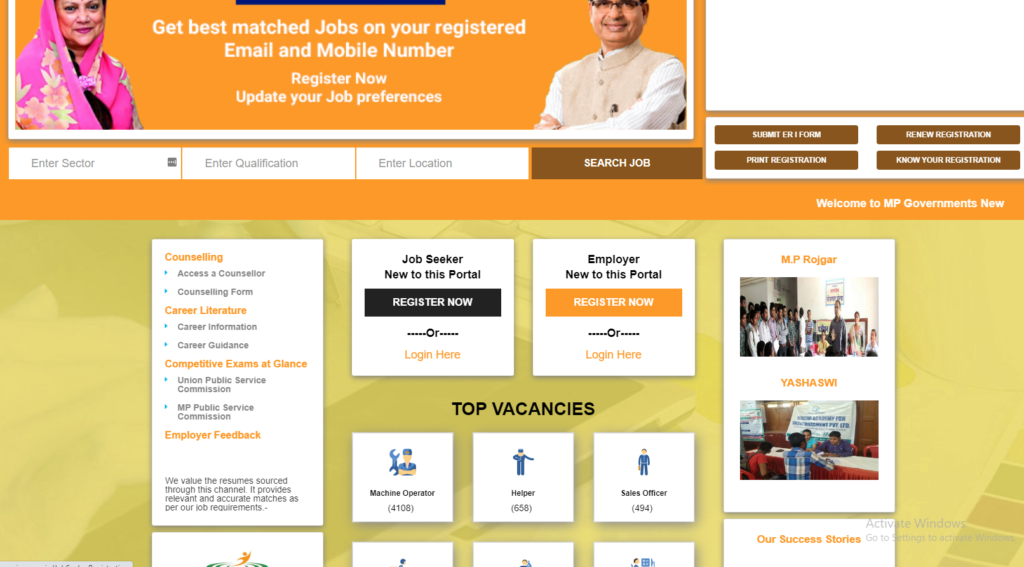 Employment is the most popular word in the present time world after COVID-19 Pandemic. Millions of persons lost their jobs because of this Pandemic. The government of every country also tries to re-settle the peoples of the countries by giving bits of help, in cash or in food. Here we all are discussing or knowing about Madhya Pradesh Employment | MP Rojgar Panjiyan | Madhya Pradesh Employment Portal 2021.
MP government an online portal for employment registration, mprojgar.gov.in. Under the Madhya Pradesh Employment Portal facility, the government tries to give employment to all unemployed youth of the state.
But before applying for employment there are lots of questions are came to mind, like How to Apply for MP Rojgar Panjiyan, Application for employment registration mp, MP Employment Registration, Employment Registration mp, MP Employment Registration Online Form, mprojgar.gov.in login, Madhya Pradesh Employment Online Registration Portal Employment Fair 2020, MP Rojgar Panjiyan Important Dates, MP Rojgar Panjiyan Application Fee, MP Rojgar Panjiyan Eligibility Criteria, MP Rojgar Panjiyan Age Limit, MP Rojgar Panjiyan Document Required.
Now with the help of the digital world MP government try to simplify rough of employee appointment. Now anyone can apply for employment online by using their phone, laptop, desktop, etc. Now people of the state have not required to go to the employment office for employment registration or no need to face any problems.
Interested candidates who want to apply for employment can register themself online by going to MP Rojgar Portal. 
With the help of this facility, deserving candidates are easily getting jobs in MP. All the candidates are judged on the basis of their experience and education qualification. This is helpful for all companies to easily find suitable candidates for the jobs.
Step:1 – Candidate needs to visit MP Rojgar Portal online, mprojgar.gov.in.
Step:2 – After the visit on-site, the candidate needs to click on the "JOB SEEKER NEW TO THE PORTAL" and the Employer needs to Visit "Employer New to this portal" for registration.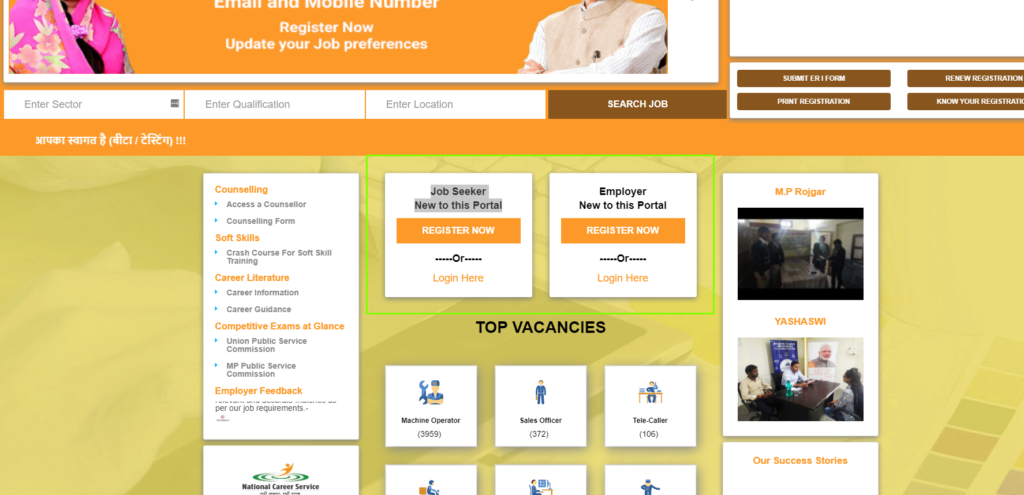 Step:3 – For completion of the Job Seeker Registration candidate need to complete their personal information in the online form, like full name, mobile number, Gender, Address, Email ID, Aadhaar Card & password for login in portal again.
After a one-time registration candidate no need to register again. They can log in to the employment portal by using their User Name and password.
The last date for registration is 31st December every year.
The last date for renewal of registration is 31st December.
MP Government conducts Job Fair from time to time every year.
MP Government not charge any application fee for this application. Any category candidate is not required to pay any application fee. This application is completely free of cost.
The candidate must need to hold Indian Citizenship to apply for this application.
Only an MP domicile holder candidate is eligible for this application.
The candidate needs to be passed a minimum 10th exam for this application.
Candidates must have a valid mobile number.
All candidates must be a valid email ID for the Rojgar Panjeeyan.
Only MP Domicile holders any category candidates are registered for this application.
According to the MP employment department guidelines candidate needs to hold a minimum of 15 years of age. They are not fixed at any bar for maximum age.
Registered for new rojgar Panjiyan/employment registration online.
Renewal for old MP Rojgar Registration.
Candidate can check their Rojgar Registration number here.
Check the Latest Jobs Fair Through the Login in the Portal.
Download the admit card and check Rojgar Result in MP Rojgar Paniyan.
Also Read These,