Soccer player Christian Eriksen 'was gone' after on-field cardiac arrest
June 13, 2021
Soccer player Christian Eriksen 'was gone' after on-field cardiac arrest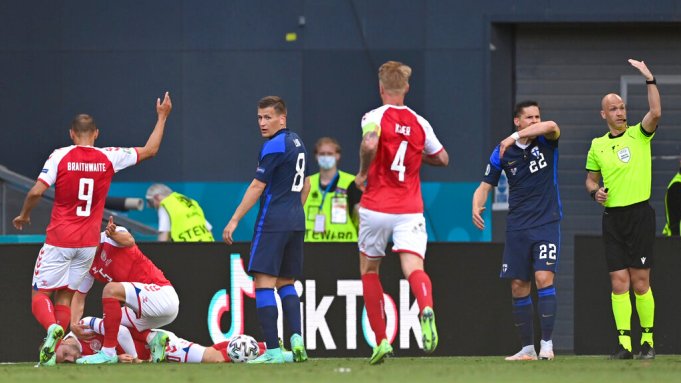 Soccer player Christian Eriksen 'was gone' after on-field cardiac arrest. The 29-year-old midfielder "continues to be hospitalized for further examination," the Danish Football Union said in a statement.
Christian Eriksen, the Danish soccer player who collapsed on the field during a Euro 2020 match on Saturday, suffered a cardiac arrest and "was gone" before being resuscitated with a defibrillator, his team's doctor said.
Eriksen was walking alone near the sideline around the 42nd minute of Denmark's opening game against Finland when he appeared to suddenly stumble and fall forward. His teammates urged staff to rush to his aid.
The team then formed a ring around him to shelter him from view as medics performed CPR. Players from both teams, as well as fans in the stadium, were visibly distressed and in tears, while the stadium in the Danish capital Copenhagen fell silent.
Eriksen suffered a cardiac arrest and "was gone" before he was resuscitated, said Denmark team doctor Morten Boesen.
"We got him back after one defib. That's quite fast," Boesen said.
"He was gone, and we did cardiac resuscitation. It was a cardiac arrest," Boesen said. "How close were we [to losing Eriksen]? I don't know.
"We got him back after one defibrillator, so that's quite fast. I'm not a cardiologist, so the details I will leave to the experts at the hospital."
The game between Denmark and Finland was halted in the 43rd minute following the incident and was resumed later Saturday, resulting in a 1-0 victory for the Fins with Eriksen being named star of the match.
Denmark boss Kasper Hjulmand said he thought it was wrong for players to be asked if they wanted to continue the match following the incident.
"I know it's very difficult," Hjulmand said. "But looking back it was the wrong thing to make the decision between the two scenarios to the players in this case.
"Players were in a shock condition. Players who didn't really know yet if they had lost their best friend. And they have to decide between these two things. And I have a sense that we shouldn't have played.
"I know it's difficult. It's just a feeling I have. Maybe we should have just gone on to the bus and gone home and let's see what the next days would have brought.
"That's just my feeling now, but I think it was a very, very tough decision that the players had to try to make a decision. I know it's difficult, but I have a sense that it was wrong for the players to be given this situation."