Samsung Galaxy Book Pro 360 review
May 24, 2021
Samsung Galaxy Book Pro 360 review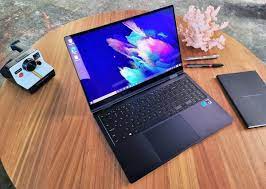 Samsung Galaxy Book Pro 360 review – Samsung Galaxy Book Pro 360 is one of the best Windows laptops you can buy in the premium bracket, and this is our full review, both in video and text format, for your viewing pleasure.
Samsung's approach to laptops is almost as daring as it is for smartphones. While most companies are doing the bare minimum to keep the cost down, it's crazy just how much Sammy is able to cram on a computer for that same price tag.
Last year's Galaxy Book Flex had a far better QLED display than most, brought an S Pen, threw in some thunderbolt love, and even a trackpad that could reverse charge your Qi-enabled devices. Its only problem was that it was launched before the pandemic really hit, so the price wasn't as sensitive a topic as it is today.
For this year, even if this Book Pro 360 is a bit more conservative, it follows on a couple of fan favorites.
To start, the design and build of this computer is kind of crazy. 6000 series aluminum and a very sharp footprint allow this 15-inch model to be almost as light as a MacBook Air and making the 13-inch MacBook Pro look bad with far less footprint. It's one of those products you have to hold to believe.
Selections are also made simple. Two size options for each of the two variants, with colors depending on your choice, with me, clearly being a Mystic Bronze kind of guy. The Pro is for those who care more about price than features, but it's interesting that no matter how high you configure this Pro 360, the price is still lower than most.
Samsung Galaxy Book Pro 360 13 is a Windows 10 Home laptop with a 13.00-inch display that has a resolution of 1920×1080 pixels. It is powered by a Core i3 processor and it comes with 8GB of RAM.
Connectivity options include Wi-Fi 802.11 a/b/g/n/ac, Bluetooth and it comes with 4 USB ports, Thunderbolt 4 (Type C), Multi Card Slot, Headphone and Mic Combo Jack ports.
General
| | |
| --- | --- |
| Brand | Samsung |
| Model | Galaxy Book Pro 360 13 |
| Release date | 28th April 2021 |
| Model Name | Galaxy Book Pro 360 13 |
| Series | Galaxy Book Pro 360 |
| Dimensions (mm) | 202.00 x 302.50 x 11.50 |
| Weight (kg) | 1.04 |
| Colours | Mystic Navy, Mystic Silver, Mystic Bronze |
| Operating system | Windows 10 Home |
| Battery Capacity (WHR) | 63 |
Display
Then there's this display. At this price, there's just no way to get an AMOLED panel with this amount of color and contrast ratio. Samsung also adopted some of the techs of the Z Fold lineup to avoid the wobble we got with previous iterations. It follows on last year's design language where bezels are minimal in three of the four corners, with the 720p webcam where it's supposed to be.
| | |
| --- | --- |
| Size | 13.00-inch |
| Resolution | 1920×1080 pixels |
Processor
| | |
| --- | --- |
| Processor | Intel Core i3 11th Gen |
Memory
Connectivity
| | |
| --- | --- |
| Wi-Fi standards supported | 802.11 a/b/g/n/ac |
| Bluetooth version | 5.1 |
Inputs
| | |
| --- | --- |
| Web Camera | 720p |
| Pointer Device | Touchpad |
| Touchpad | Yes |
| Internal Mic | Yes |
Ports and slots
| | |
| --- | --- |
| Number of USB Ports | 4 |
| Thunderbolt 4 (Type C) | 1 |
| Multi Card Slot | 1 Micro SD Card Reader |
| Headphone and Mic Combo Jack | Yes |
The first is that I would recommend you pick the 13-inch model, mainly because of the resolution on the panel. Both sizes are 1080p, but at 15-inches, this is already borderline too little.
I forgive Full HD because it's AMOLED at this price, but on a large panel, pixel density is key if you'd like to reduce the scale of the operating system and multi-task better.
I know some have complained about the brightness, but at 370 nits it's pretty much MacBook Air territory, which I found good enough. If anything I'd complain more about the bottom bezel than that.
Second is that all the punch this display can provide is marred by the speakers. They've got certifications galore like AKG tuning and Dolby Atmos, but lack the depth I've come to expect from Samsung. I would've given up on that numeric keypad if they made the speakers front firing.
To conclude our Galaxy Book Pro 360 review, yes, I know, there's a lot of choices when it comes to a good Windows computer. Yes, I know most have a touch screen and support some sort of a stylus, and might cost a bit less money than this machine.
The question is how many of these have an AMOLED panel? How many of these include WACOM support, which is best in class.
How many offer a design that's hard to compete with. Best of all, how many can say they support your smartphone ecosystem and help you get more out of combining them together? I'd even say Apple struggles when trying to compete with this package, at least from a feature for the price perspective.