News from Cricket World – India beat England in first ODI Match | India and england series |Live score
March 23, 2021
News from Cricket World – India beat England in first ODI Match | India and england series |Live score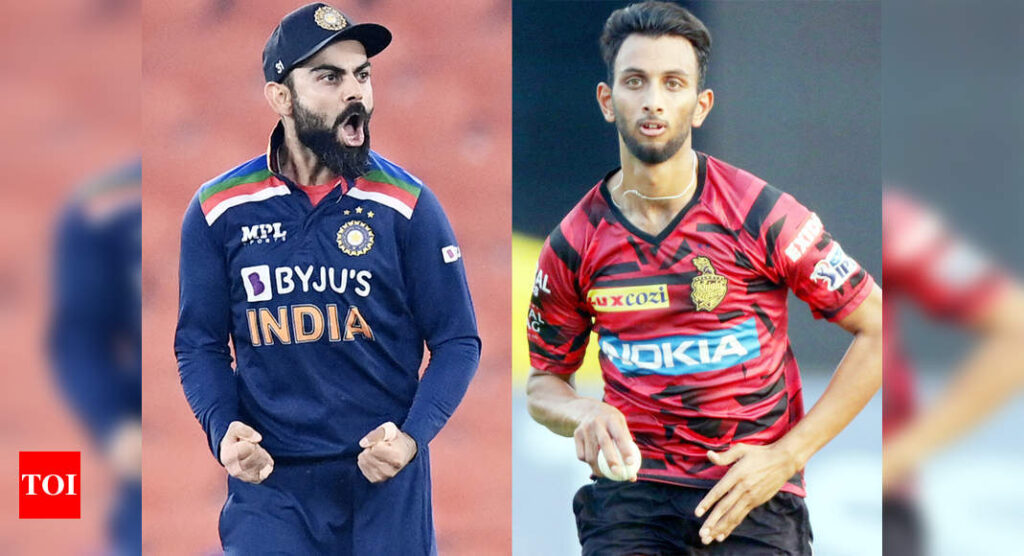 News from Cricket World – India beat England in first ODI Match | India and England series |Live score of India vs England first ODI.
India beat England in the first ODIs played in Maharashtra Cricket Association Stadium, Pune, on 23.03.2021 Today. Both teams showing their good affords for winning this match. Openers of both teams are playing a very important or impressive role in today's match.
But, openers from both teams are unlucky. Both Shikhar Dhawan and Jonny Bairstow lost their wicket in the 90s. But again Indian bowlers are again showing their ability for winning the match.
One Time Indian team total out from this match. England openers gave a good and fast start to their team. They scored 140 runs in 14 overs. But after this Indian bowlers start their show.
Today debuted Prasidh Krishna takes Jason Roy's wicket in their 4th over. Before this, they spend 37 runs in their 3 overs. after that Indian bowler takes complete command of the match and take England's score of 175/5 in 25 overs.
English Team completely lost this match when prasidh and Thakur continuously taking wickets in their overs. Indian Team wins this match in 42.1 Overs. They bold out the England team in the score of 251.
Here are some highlight relating to the match
1. India beat England by 66 runs in 43 over.
2. Dhawan again show their batting efforts. They scored 98 runs in 106 balls with the help of 2 sixes and 11 fours.
3. Rahul and Krunal Pandya 100 runs partnership also lead the India victory from the front. This is a very important partnership that helps India to reach 317 runs in 50 overs.
4. England Openers try to achieve this target. They scored 140 runs in first 14 overs.
5. Prasidh Krishna Show, why they are playing for Indian Team. After considering 37 runs in the first 3 overs. They spend only 54 runs in 8.1 overs and taking 4 wickets. They play a very important role in the Indian team's victory.
6. Shardul Thakur wicket taking ability again helps Indian team to win this match. They takes 3 wickets in 6 overs.
7. From England Side Jonny Bairstow scored 94 runs in 66 balls with the help of 6 fours and 7 sixes.
News from Cricket World – India beat England in first ODI Match | India and England series |Live score
England Team Score Card,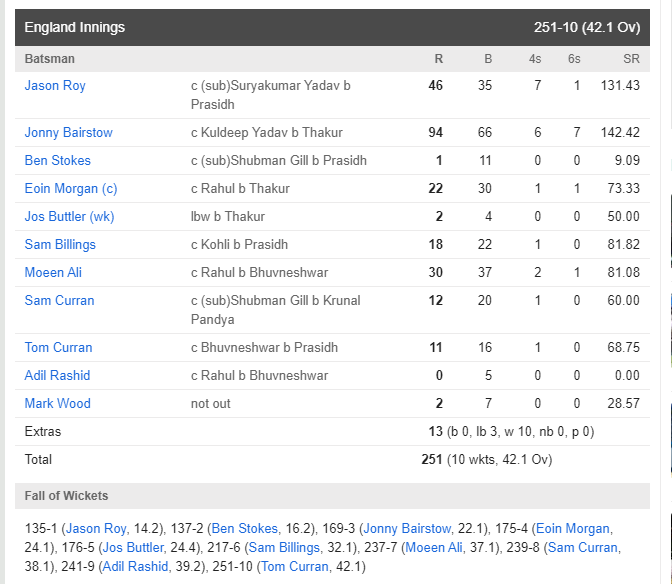 Indian Team Score card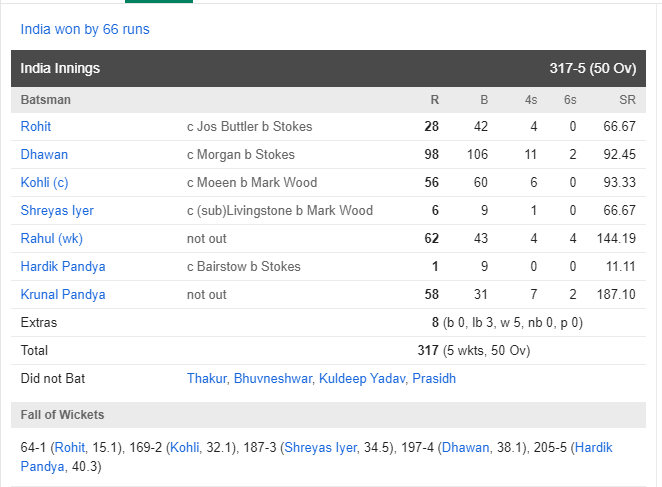 Krunal Pandya bailed India out of trouble on debut with a stunning assault on England that helped the hosts post a strong 317/5 in the opening ODI in Pune.
A 300 plus total was not on the cards at one stage when England kept clawing back with quick wickets before Krunal turned the tide alongside KL Rahul, who also helped himself to an unbeaten half-century.
India began on a very cautious note after being asked to bat first by Eoin Morgan. Mark Wood found a lot of assistance on the surface first up and combining that with his raw pace, he posed a few questions.
Rohit Sharma and Shikhar Dhawan managed to get past that initial period of play unscathed but had to cover up for that considering the scoring rate took a hit. Once they managed to add more than 50, Rohit showed signs of aggression when he stepped down the track to Tom Curran to pull him over midwicket.
Now the next match will be played on 26th March in the same venue but on another pitch.