iOS 14 Overview with all New Features
October 5, 2020
iOS 14 Overview with all New Features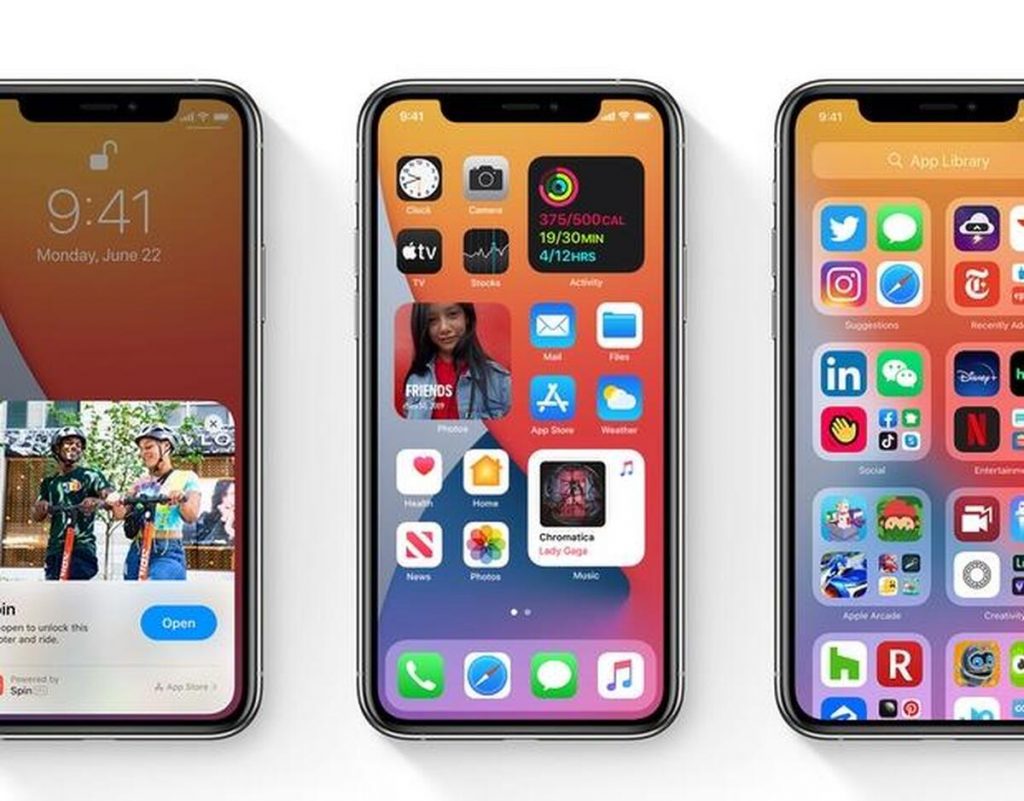 iOS 14 Overview with all New Features:- iOS 14 is the fourteenth and current major release of the iOS mobile operating system developed by Apple Inc. for their iPhone and iPod Touch lines.
Announced at the company's Worldwide Developers Conference on June 22, 2020, as the successor to iOS 13, it was released on September 16, 2020.
Overview of iOS 14
iOS 14 brings a fresh look to the things you do most often, making them easier than ever. New features help you get what you need at the moment. And the apps you use all the time become even more intelligent, more personal, and more private.
You're able to do more with your iPhone than ever before. So iOS 14 reimagines the most iconic parts of the experience to be even more helpful and personal.
iOS 14 Overview with all New Features available
Key Features and Enhancements in iOS 14
A. Widgets in iOS 14
1. Redesigned widgets
Widgets have been redesigned to be more beautiful and data-rich, so they can provide even more utility throughout your day.
2. Widgets for everything
Redesigned Apple widgets for Weather, Clock, Calendar, Maps, Fitness, Photos, Reminders, Stocks, Music, TV, Tips, Notes, Shortcuts, Battery, Screen Time, Files, Podcasts and Siri Suggestions.
3. Widgets on the Home Screen
Place widgets anywhere on the Home screen for information at a glance. Perfect for tracking your commute, activity or Calendar events.
4. Widgets in different sizes
Widgets now come in small, medium and large sizes so you can pick the information density that's right for you.
5. Widget gallery
The central place for all your widgets from Apple and third parties. The gallery shows the top widgets based on what users are installing and using most.
6. Widget stacks
You can create stacks of up to 10 widgets to make the most of the space on your Home Screen. Drag one widget on top of another and swipe through them.
7. Smart Stack
In the Widget gallery, you can select the Smart Stack, a set of widgets you can swipe through that uses on-device intelligence to surface the right widget at the right time based on factors like time, location, and activity.
For example, you might see the Weather widget in the morning, Calendar events during the day, and commute time from Apple Maps in the evening.
8. Siri Suggestions widget
The Siri Suggestions widget uses on‑device intelligence to show actions you might take based on your usage patterns, such as ordering a coffee or starting a podcast. Tap the suggestion to perform the action without launching the app.
9. Developer API
Developers can create their own widgets using a new API that lets them take advantage of the redesigned widgets, including the ability to put them on the Home Screen and show them at the right time.
B. App Library in iOS 14
1. App Library on the Home Screen
The App Library is a new space at the end of your Home Screen pages that automatically organizes all of your apps into one simple, easy‑to‑navigate view.
2. Automatic categorization
All of the apps on your iPhone are automatically sorted into categories such as Social, Productivity and Entertainment. Categories intelligently reorder based on app use.
3. Suggestions
The App Library shows suggested apps you're likely to be looking for based on usages such as time, location, or activity.
4. Search
Use the search bar at the top of the App Library to quickly find the app you're looking for. When you tap Search, apps can be displayed alphabetically, making them easy to scroll through and find.
5. Hide Home Screen pages
You can hide pages to streamline your Home Screen, making it easy to get to the App Library. New apps downloaded from the App Store automatically go into the App Library.
6. Recently Added
App Clips that were recently launched and apps downloaded from the App Store appear in the App Library, making them easy to find.
C. Compact UI in iOS 14
1. Phone calls
When you receive a call, it appears as a banner instead of taking over the entire screen, so you won't lose track of what you're doing. Swipe up on the banner to dismiss it or swipe down to access extended phone features and tap to answer.
2. Third-party VoIP calls
A developer API is available so that apps like Skype can support compact incoming calls.
3. FaceTime calls
When you receive a FaceTime call, it appears as a banner instead of taking over the entire screen. Swipe up on the banner to dismiss it or swipe down to access extended FaceTime features.
4. Compact Siri
Siri has an all-new compact design that allows you to refer to information onscreen and seamlessly launch into your next task. As you start a request, Siri pops up at the bottom of the screen.
When Siri has a result for you, it appears at the top of the screen like a notification. Results have been updated to give you just the information you need in a new compact layout.
5. Picture in Picture
You can now continue watching a video or making a FaceTime call while you use another app. Perfect for having a video call with a friend while you find a time to meet or catching up on a TV show while checking your email.
6. Resize Picture in Picture window
You can resize the Picture in Picture window by pinching the video to make it bigger or smaller.
7. Move Picture in Picture window to any corner
Put the video window in any corner of the screen by simply dragging it.
8. Minimise Picture in Picture window offscreen
Minimize the video window by moving it offscreen, giving you full access to an app while continuing to listen to the audio.
D. Search in iOS 14
1. Top Hit results
The most relevant results, including apps, contacts, knowledge, Maps' points of interest, and websites, are shown right at the top, making it easier to find what you need.
2. As-you-type search suggestions
Just start typing and search suggestions appear below the search field.
3. Quick launcher
Just type a few characters and you can quickly launch apps and websites by tapping Go.
4. In-app search
Start a search in apps like Mail, Messages and Files.
5. Web search
Searching the web is now easier than ever. Start typing and see relevant websites and web search suggestions displayed at the top, making it easy to quickly launch Safari for a full web search.
E. Messages in iOS 14
1. Pinned conversations
Pin your favorite conversations to the top of your conversation list so you can always get to them. Recent messages, Tapbacks, and typing indicators animate above the pin. And if a group conversation is pinned, you'll see three recent participants circle around the pin when they send a message.
2. Up to nine pins
You can have up to nine pinned conversations that sync across Messages in iOS, iPadOS and macOS.
3. Mentions
Direct a message to an individual in a group conversation by typing the person's name. You can even customize a particularly active group, so you receive notifications only when you are mentioned.
4. Inline replies
You can reply directly to a specific message in a group conversation. See all related messages in their own view to easily keep track of a thread.
5. Set group photo
Set an image for your group conversation using a photo, Memoji, or emoji that is shared with all members of the group.
6. SMS filter
Choose to view a set of replies as their own thread or view them chronologically in the full conversation.
F. Memoji in iOS 14
1. New hairstyles
Customize your Memoji with 11 new hairstyles, including man bun, top knot, and simple side part.
2. New headwear styles
Show off your hobby or profession with 19 new headwear styles, including cyclist helmet, nurse cap and swimming cap.
3. New Memoji stickers
Three new Memoji stickers let you send a hug, a fist bump or even a blush to your friends.
4. More age options
Six new-age options let you customize your look whether you're baby-faced, in your golden years, or somewhere in between.
5. More expressive Memoji
Revamped facial and muscle structure makes Memoji and Memoji stickers even more expressive.
6. Hairstyles with fades
Thirteen hairstyles now include fades, where hair gradually tapers on the side of the face, letting you reflect your style.
7. Face coverings
Customize your Memoji with a new face covering, including the color, to match your look.
G. Maps
1. Cycling
Maps now route cyclists along cycle lanes, cycle paths, and cycle-friendly roads. Preview the elevation for your ride, check how busy a street is, and set routes to avoid steep inclines or stairs.
Maps also offer custom cycling voice guidance and rich experience on Apple Watch that makes it easy to navigate with a glance.
2. Guides
Get recommendations for the best places to visit in a city with Guides created by a selection of trusted brands. Guides help you discover great places to eat, shop, meet friends or explore in cities around the world.
You can save Guides so you can easily get back to them later, and they automatically update when new places are added so you always have the latest recommendations.
3. Electric vehicle routing
Easily plan trips with your electric vehicle. Maps automatically add charging stops along your route and even account for charging time when calculating the ETA.
Once you securely add your electric vehicle on your iPhone, Maps can keep track of things like the current charge and charger type to give you the best route for your vehicle.
4. Congestion zones
Major cities like London and Paris have congestion zones to help reduce traffic in dense areas. Maps lets you see congestion zone tolls on the map and can route you around them if you like.
5. New maps available in more countries
Detailed new maps are coming to more countries later this year, including Canada, Ireland, and the UK.
The new maps offer more detailed roads, buildings, parks, marinas, beaches, airports and more, giving you a more realistic view of the world.
6. Refine location
Quickly get a highly accurate location and orientation when you're in urban areas with poor GPS signals.
7. Speed cameras
Maps lets you know when you're approaching speed cameras and red-light cameras along your route. You can also see where individual cameras are located on the map.
8. License plate access
For cities in China that limit driving through dense urban areas, you can see if you have access based on your vehicle's eligibility.
Enter your license plate number in Maps to determine if you have permission to go through the area or if you need to go around it. License plate information is stored securely in Maps and never leaves your device.
H. Translate
1. Conversation mode
Conversations are easy by design with Translate. Turn the phone to landscape to split the screen and show text from both sides of the conversation.
Just tap the microphone button to say something, and automatic language detection transcribes the original and translated text on the correct sides of the screen, followed by the translated audio.
Conversation mode works for downloaded languages even when you don't have an Internet connection.
2. Voice translation
Advanced on-device intelligence lets you translate your voice from one language to another. Downloaded languages can be translated using voice even without an Internet connection.
3. Text translation
All languages have their keyboards included for translating text, so you don't have to download keyboards separately or manually switch between them.
4. Favourites
Save translations in the Favourites tab for easy access later. You can also view your recent history and save phrases you just translated.
5. Attention mode
Enlarge translated text in the landscape, making it easier to read and more effective for getting someone's attention.
6. On-device mode
Enable a fully offline experience for Translate. Use all the app features for downloaded languages and keep your translations private without needing to turn off your phone's Internet connection.
7. Dictionary
Tap a word in a completed translation to see the definition in the built‑in dictionary.
8. Supported languages
Translate currently supports translation between any combination of 11 languages: English (US & UK), Spanish (Spain), Chinese (Mandarin, Simplified), Japanese, Korean, Russian, German (Germany), French (France), Italian (Italy), Portuguese (Brazil) and Arabic.
iOS 14 also offers more new features. For More details relating to iOS 14 Overview with all New Features visit here, https://www.apple.com/in/ios/ios-14/features/