Hungama 2 Movie Review
July 24, 2021
Hungama 2 Movie Review, Cast name, Rating, Music Director, Singer, Streaming on and Release Date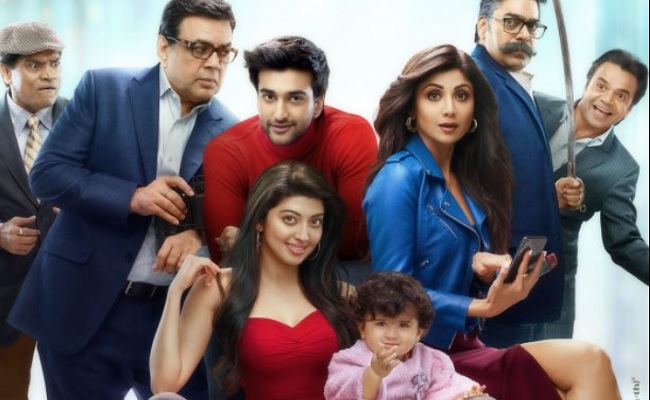 "Hungama 2", the sequel to the hit "Hungama" is now streaming on Disney+Hotstar. The film marks actress Shilpa Shetty's and Paresh Rawal's return to the screen after a long time. It directly hit the OTT space. You can check Hungama 2 Movie Review, Cast name, Rating, Music Director, Singer, Streaming on, and Release Date here.
Detailed Summary of OTT Movie Hungama 2 (Hindi)
| | |
| --- | --- |
| Rating | 2/5 |
| Cast | Meezaan Jaffrey, Pranitha Subhash, Paresh Rawal, and Shilpa Shetty and others |
| Producers | Ratan jain |
| Music | Anu Malik, Ronnie Raphael |
| Streaming on | Disney+ Hotstar |
| Director | Priyadarshan |
| Released Date | July 23, 2021 |
Story of Hungama 2 in Summary
Akash (Meezaan Jaffrey) lives with his father, sister, his brother's family. He gets engaged to Simran, the daughter of his father's friend Bajaj. Out of the blue, his former girlfriend Vaani (Pranitha Subhash) arrives at his home, claiming that Akash impregnated her while they were dating. She comes with their daughter.
Akash's father Colonel Kapoor (Ashutosh Rana) asks her to stay in their home until the matter gets resolved. Akash seeks the help of his colleague Anjali (Shilpa Shetty) to prove that Vaani is lying. Is Vaani lying? If so, for what reason?
Performances of Stars in Film
Even veteran actors Paresh Rawal and Ashutosh Rana have played their roles in a silly way. Meezaan Jaffrey and Pranitha Subhash hardly make any impact.
Shilpa Shetty still has a good screen presence, but her role is written poorly. Akshaye Khanna makes a cameo appearance.
Music is forgettable. Even the remix version of the super hit song "Chura Ke Dil Mera" is not that effective. The cinematography is decent.
Reviews on the Hungama 2 Movie ,
Director Priyadarshan, a veteran in the Malayalam film industry, successfully remade his Malayalam films in Hindi.
With hits like "Hera Pheri" and "Hungama", he became a big director in Bollywood, and his streak of success continued for over a decade.
Like most senior directors, he is not coming out of the cocoon. He is churning out films that a new generation of audiences snigger at. His ideas stuck in the 1980s and 1990s.
His latest movie, Hungama 2, is a case in point.
The story of "Hungama 2" is set in a hill station. It introduces the characters of Ashutosh Rana and Manoj Joshi first. Then switches to a comedy sequence involving kids, reminding us of Akkineni Nageswara Rao's "Rao Garillu". Yes, the story and the narrative of "Hungama 2" is archaic.
Based on Priydarshan's 1994 Malayalam movie "Minnaram", the film does not boast a single comedy scene that can connect to today's audience.
The film begins on a dull note and never gets its energy. Paresh Rawal suspecting his wife Shilpa Shetty is straight out of the Vadivelu track in Rajinikanth's "Chandramukhi". It, however, has failed to evoke laughs.
Shilpa Shetty has returned to the screen after many years, but she chose a role that does little to boost her career. For more, visit here