GOLIATH 700 HP SUPERCHARGED
January 30, 2021
GOLIATH 700 HP SUPERCHARGED ready to launch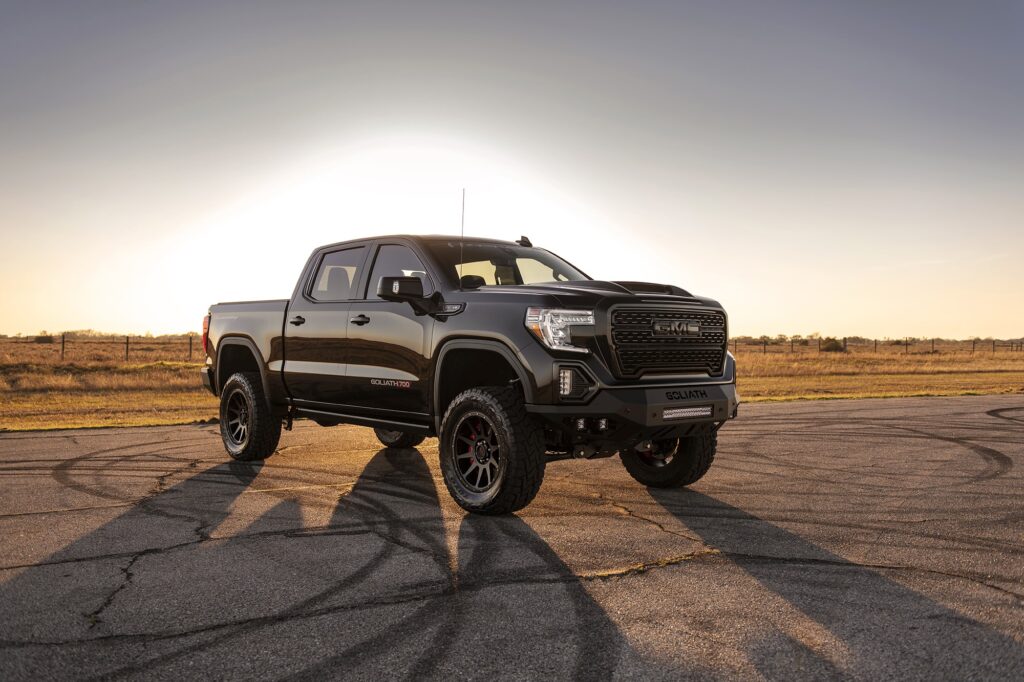 Hennessey launches goliath 700 HP supercharged soon. The 2021 GMC Sierra & Chevrolet Silverado 6.2L V8-Powered Pick-up Trucks Undergo the Full Hennessey Treatment.
The base price for the 2019 GOLIATH 6X6 is $375,000, which includes the 2019 Chevy Silverado truck.
HPE is also offering the following optional upgrades: stroker motor upgrade, Brembo brake system upgrade, and custom interior upgrade.
Now the new updated version 2021 is comes in approx similar price.
Goliath 700 HP Supercharged Specifications
A) Power
700 bhp @ 6,300 rpm
B) Performance
0-60 mph: 4.3 sec.
C) Goliath 700 HP includes
High-Flow Intercooling System
2.9 Liter Supercharger System
High-Flow Air Induction System
Custom HPE Camshaft
Chromemoly Hardened Pushrods
Crankcase Ventilation System
HPE Engine Management Calibration
All Necessary Gaskets, Fluids & Hardware
Professional Installation
Chassis Dyno Testing
Road Testing – Up To 200 Miles
Serial-Numbered Dash Plaque
Serial-Numbered Engine Plaque
Shell V-Power 93 Octane Gasoline
Shell Rotella RGT Synthetic Oil
Hennessey Embroidered Headrests
Hennessey Exterior Badging
GOLIATH 700 Exterior Badging
Supercharged Badging
3 Year / 36,000 Mile Limited Warranty
Optional Upgrades Available in the Goliath 700 HP Supercharged
GOLIATH OFF-ROAD STAGE 1 PACKAGE
GOLIATH Front Bumper
5 LED Lights in Front Bumper
20 inch Hennessey 10-Spoke Wheels
35 inch Toyo Off-Road Tires
6" Lift Kit (*depends on trim level)
Hennessey & GOLIATH Exterior Graphics
Professional Installation
3 year / 36,000 Mile Limited Warranty
ADDITIONAL UPGRADES
GOLIATH Diamond Stitched Interior
Stainless Steel Cat-back Exhaust System
Retractable Electronic Bed Cover
Upgraded Electronic Fold Out Steps
Support Staff for Assistance
Any interested client, who wanted to buy a new goliath can contact on below-mentioned details,
Contact No. 9798851300
Support Email – sales@hennesseyperformance.com
For information Request – Click Here