Upcoming Fair's in India in 2021, Upcoming Fair's in Pragati Maidan
June 21, 2021
Upcoming Fair's in India in 2021 , Upcoming Fair's in Pragati Maidan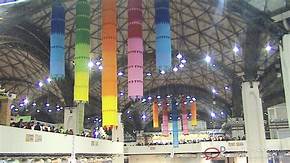 As we know, India organized so many fairs every year for all sectors. Do you know the Upcoming Fair's in India in 2021 or the Upcoming Fairs in Pragati Maidan or in NCR?
As everyone knows that India is full of talent and new innovations. But because of the lack of platforms to present this talent, most of the talent is destroyed in India. But for few years Indian government take initiative and organize so many fairs to present local talent at the world level.
Here are the list of the Fair's organize in India in 2021 | Pragati Maidan Fair
Dates – From 23 July to 25th July 2021
Organize in – Pragati Maidan, New Delhi
Timings – 10:00 AM – 6:00 PM (Business)
Entry Fee – Free & Paid Ticket
Exhibit Booth Cost – Starts from 144000 INR
Food & Technology Expo is an exhibition focusing on Food Processing & Packaging Machines & Equipment, Dairy & Confectionery, Processed Foods, Organic Foods, Healthy & Nutritious Foods, Beverages, Health & Fitness Equipment, and much more.
International Conference on Medical and Health Sciences (ICMHS)
Date – 24 June 2021
Organize in – Hotel Indraprastha, New Delhi, India
Timings – 09:00 AM – 07:00 PM General Hours
Entry Fees – Information available on Official Website
The key intention of ICMHS is to provide an opportunity for the global participants to share their ideas and experience in person with their peers expected to join from different parts on the world.
In addition, this gathering will help the delegates to establish research or business relations as well as to find international linkage for future collaborations in their career path.
We hope that ICMHS outcome will lead to significant contributions to the knowledge base in these up-to-date scientific fields in scope.
New E-App Annual Conference Exhibition
Date – 25 – 26 Jun 2021
Organize in – 10times, Noida, India
Timings – 11:00 AM – 7:00 PM (Aug 01 – Aug 02) (General)
1:00 PM – 7:00 PM (Aug 03) (General)
Entry Fees – Free & Paid Ticket, for more visit here
e-App Annual Conference focuses on how it has changed the game for Event Organisers & Attendess with the help of cutting edge technology. During the event, Speakers from various business verticals will share the success stories of the events powered by E-App and how it helped them to get more traction.
International Conference on Global Business, Economics, Finance and Social Sciences
Date – 27 Jun 2021
Organize in – Park Plaza Faridabad, Faridabad, India
Timings – 09:00 AM – 06:00 PM General Hours
Entry Fees – Check all details in official website
ICGBEFSS provides an international forum for researchers, developers, engineers, and academicians who are involved in research projects to exchange and share their valuable ideas and research concept leading to the innovation of new and relevant technology.
We are going to provide an opportunity to exchange new ideas, advances, and technologies for all registered participants. We hope that this will become a strong technological and academic community for worldwide engineers, scholars, academicians, industrialists, and students in fields of relevant areas.
For More Details Visit Here, https://news-fair.com/