Indian Player Hold pressor and finish with Draw
January 11, 2021
Indian Player Hold pressor and finish with Draw in 3rd test match between India and Australia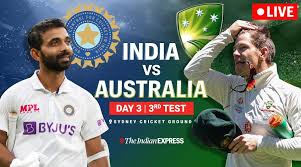 Indian Player Hold pressor and finish with Draw:- Indian player again show some fighting sprite in 3rd test match between India vs Australia.
A much-bruised India put in a very special batting effort in the fourth innings on the final day of the Sydney Test and saved the game against Australia. The hosts' bowling attack threw the kitchen sink at the Indian batters who fought with great determination despite a few painful blows to save the Test match.
Hanuma Vihari and R Ashwin hold pressor and defend the Australian bowling lineup very smartly. With their backs to the wall on the morning of the final day, the likes of Hanuma Vihari and R Ashwin defended doggedly, despite injuries, to frustrate the Australians after Rishabh Pant and Cheteshwar Pujara's 148-run partnership had raised some hopes of a win earlier in the day.
Vihari and Ashwin batted for more than 250 deliveries as they dropped anchor, and India played 131 overs to blunt the Australian bowling and come away with a sensational draw. Before their massive effort, Pant took the attack to the hosts, and was especially harsh on spinner Nathan Lyon during his 118-ball-97.
The series remains locked at 1-1 after three Tests with the fourth in Brisbane scheduled to start on 15 January. India is currently the holder of the Border-Gavaskar Trophy.
India was dealt a big blow early on Day 5 when skipper and overnight batsman Ajinkya Rahane lost his wicket in the second over. Rahane and Cheteshwar Pujara were the two batters at the crease at stumps on Day 4 after India lost openers Shubman Gill and Rohit Sharma in the last half hour of play on Sunday. The score was 98/2 at Stump's with India needing 309 runs to win.
This is very good performance with the Indian players. Now lets wait for final test match.