ICC Mens T20 World Cup 2021 Schedule & Results
September 20, 2021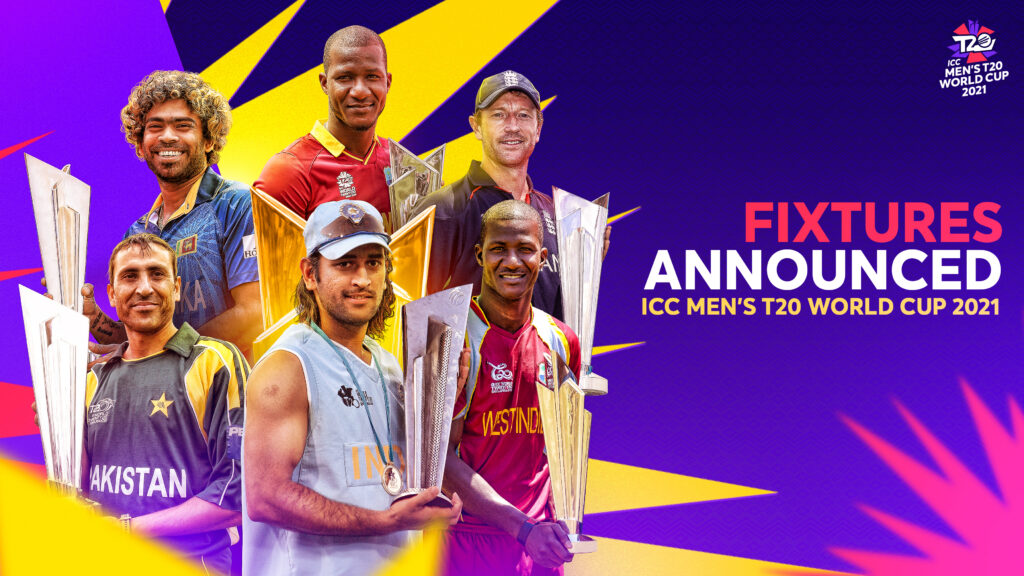 ICC Mens T20 World Cup 2021 Schedule & Results
ICC Mens T20 World Cup 2021 Schedule released. All the matches of the T20 World Cup 2021 are scheduled in UAE and Oman. Here we can see the complete details of the ICC Mens T20 World Cup 2021 Schedule.
Originally, the T20 World Cup event was scheduled to start in 2020. However, due to the Covid-19 pandemic, it was suspended. Also, India was all set to host the tournament. However, the current covid-19 situation of India is not in full control to host big events like T20 World Cup.
So instead of India, it will take place in UAE and OMAN in a total of 4 venues, Muscat, Dubai, Abu Dhabi, and Sharjah. However, The Board of Control for Cricket in India (BCCI) will still hold the hosting rights for the event. Notably, UAE has been hosting big events in the pandemic era so it was the safest place for hosting the marquee World Cup event.
The T20 World Cup 2021 is scheduled to begin on October 17 and the final of the event is all set to take place on November 14. A total of 45 games will be played in the T20 World Cup 2021 and ICC has divided teams into four groups. Two groups for the Super 12s and Two groups for the qualifier stage.
The qualifier round of T20 World Cup 2021 will begin on October 17 and will end on October 22.
| | |
| --- | --- |
| Tournament | T20 World Cup |
| Year | 2021 |
| Format | Twenty- Twenty |
| Hosts | UAE |
| Organizer | ICC |
| Start Date | 17-10-21 |
| Final Date | 14-11-21 |
Here is the ICC Mens T20 World Cup 2021 Schedule
| | | | | | |
| --- | --- | --- | --- | --- | --- |
| Match No | Date | Fixture | Time (IST) | Venue | Stage |
| 1 | 17-Oct | Oman vs Papua New Guinea | 15:30 | Al Almerat, Muscat | Round 1 |
| 2 | 17-Oct | Bangladesh vs Scotland | 19:30 | Al Almerat, Muscat | Round 1 |
| 3 | 18-Oct | Ireland vs the Netherlands | 15:30 | Abu Dhabi | Round 1 |
| 4 | 18-Oct | Sri Lanka vs Namibia | 19:30 | Abu Dhabi | Round 1 |
| 5 | 19-Oct | Scotland vs Papua New Guinea | 15:30 | Al Almerat, Muscat | Round 1 |
| 6 | 19-Oct | Oman vs Bangladesh | 19:30 | Al Almerat, Muscat | Round 1 |
| 7 | 20-Oct | Namibia vs the Netherlands | 15:30 | Abu Dhabi | Round 1 |
| 8 | 20-Oct | Sri Lanka vs Ireland | 19:30 | Abu Dhabi | Round 1 |
| 9 | 21-Oct | Bangladesh vs Papua New Guinea | 15:30 | Al Almerat, Muscat | Round 1 |
| 10 | 21-Oct | Oman vs Scotland | 19:30 | Al Almerat, Muscat | Round 1 |
| 11 | 22-Oct | Namibia vs Ireland | 15:30 | Abu Dhabi | Round 1 |
| 12 | 22-Oct | Sri Lanka vs the Netherlands | 19:30 | Abu Dhabi | Round 1 |
| 13 | 23-Oct | Australia vs South Africa | 15:30 | Abu Dhabi | Super 12 |
| 14 | 23-Oct | England vs West Indies | 19:30 | Abu Dhabi | Super 12 |
| 15 | 24-Oct | A1 vs B2 | 15:30 | Sharjah | Super 12 |
| 16 | 24-Oct | India vs Pakistan | 19:30 | Dubai | Super 12 |
| 17 | 25-Oct | Afghanistan vs B1 | 19:30 | Sharjah | Super 12 |
| 18 | 26-Oct | South Africa vs West Indies | 15:30 | Dubai | Super 12 |
| 19 | 26-Oct | Pakistan vs New Zealand | 19:30 | Sharjah | Super 12 |
| 20 | 27-Oct | England vs B2 | 15:30 | Abu Dhabi | Super 12 |
| 21 | 27-Oct | B1 vs A2 | 19:30 | Abu Dhabi | Super 12 |
| 22 | 28-Oct | Australia vs A1 | 19:30 | Dubai | Super 12 |
| 23 | 29-Oct | West Indies vs B2 | 15:30 | Sharjah | Super 12 |
| 24 | 29-Oct | Afghanistan vs Pakistan | 19:30 | Dubai | Super 12 |
| 25 | 30-Oct | South Africa vs A1 | 15:30 | Sharjah | Super 12 |
| 26 | 30-Oct | England vs Australia | 19:30 | Dubai | Super 12 |
| 27 | 31-Oct | Afghanistan vs A2 | 15:30 | Abu Dhabi | Super 12 |
| 28 | 31-Oct | India vs New Zealand | 19:30 | Dubai | Super 12 |
| 29 | 1-Nov | England vs A1 | 19:30 | Sharjah | Super 12 |
| 30 | 2-Nov | South Africa vs B2 | 15:30 | Abu Dhabi | Super 12 |
| 31 | 2-Nov | Pakistan vs A2 | 19:30 | Abu Dhabi | Super 12 |
| 32 | 3-Nov | New Zealand vs B1 | 15:30 | Dubai | Super 12 |
| 33 | 3-Nov | India vs Afghanistan | 19:30 | Abu Dhabi | Super 12 |
| 34 | 4-Nov | Australia vs B2 | 15:30 | Dubai | Super 12 |
| 35 | 4-Nov | West Indies vs A1 | 19:30 | Abu Dhabi | Super 12 |
| 36 | 5-Nov | New Zealand vs A2 | 15:30 | Sharjah | Super 12 |
| 37 | 5-Nov | India vs B1 | 19:30 | Dubai | Super 12 |
| 38 | 6-Nov | Australia vs West Indies | 15:30 | Abu Dhabi | Super 12 |
| 39 | 6-Nov | England vs South Africa | 19:30 | Sharjah | Super 12 |
| 40 | 7-Nov | New Zealand vs Afghanistan | 15:30 | Abu Dhabi | Super 12 |
| 41 | 7-Nov | Pakistan vs B1 | 19:30 | Sharjah | Super 12 |
| 42 | 8-Nov | India vs A2 | 19:30 | Dubai | Super 12 |
| 43 | 10-Nov | Semi-Final 1 | 19:30 | Abu Dhabi | Playoff |
| 44 | 11-Nov | Semi-Final 2 | 19:30 | Dubai | Playoff |
| 45 | 14-Nov | Final | 19:30 | Dubai | Final |
Also Read this, https://news-fair.com/category/india/motivational-stories/biography/