Stock market news live updates: Stocks retreat from record highs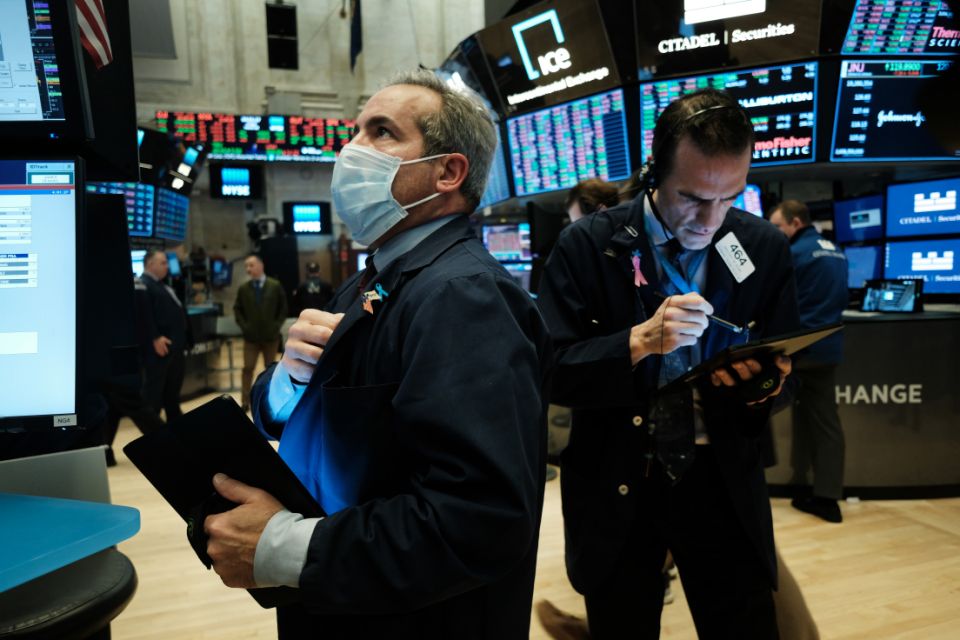 Stock market news live updates: Traders, some in medical masks, work on the floor of the New York Stock Exchange (NYSE) on March 20, 2020 in New York City.
Trading on the floor will temporarily become fully electronic starting on Monday to protect employees from spreading the coronavirus. The Dow fell over 500 points on Friday as investors continue to show concerns over COVID-19.
Stocks fell Monday as investors took a pause following last week's record-setting rally.
The S&P 500 dipped 0.8% after touching a fresh record closing high on Friday. The Dow dropped by more than 200 points, or 0.8%, while the Nasdaq underperformed and fell more than 1% as tech stocks came under pressure.
Last week, stocks had kicked off 2021 on a strong note even amid last week's violent protest at the U.S. Capitol, as markets looked through the near-term political turbulence and ahead to prospects of greater fiscal stimulus and other support that would likely come about under a unified Democratic government.
"Unprecedented is an overused word these days, but this past week it was used often and without hyperbole," Societe Generale strategist Klaus Baader said in a note Monday morning. "Markets are looking past Trump's final days. The inauguration on Jan. 20 is a key event.
Policy supports, both fiscal and monetary, will be crucial for investor confidence. Reflation is the theme. Further stimulus can help in the short term."
A number of economists and equity strategists have recently upgraded their forecasts for economic and earnings growth as more aid appeared increasingly likely under the new administration.
In recent notes, Deutsche Bank economists raised their U.S. real GDP growth forecast by about two percentage points to 6.3% year-over-year for the fourth quarter, and Goldman Sachs equity strategists increased their 2021 S&P 500 earnings per share growth rate by two percentage points to 31% over 2020.
"Democratic control of Washington, D.C. after January 20 will bring greater fiscal spending, faster GDP growth, more inflation, and higher interest rates than we had previously assumed," the Goldman Sachs strategists led by David Kostin said in a note.
Meanwhile, internet tech stocks came under pressure Monday morning after many of these companies banned President Donald Trump and cracked down on other accounts spreading misinformation, in a watershed moment for some platforms that had previously abdicated responsibility over regulating much of the content users posted on their sites.
11:26 a.m. ET: Trump account ban 'will have some very significant ramifications for Twitter': D.A. Davidson
Twitter may come under fresh regulatory and earnings pressure in the wake of its ban on President Donald Trump's account, according to D.A. Davidson senior research analyst Tom Forte.
"It will have some very significant ramifications for Twitter." Forte told Yahoo Finance live on Monday. "If you look at the excess influence that big tech has on consumers' lives and you think Amazon, Apple, Facebook and Google – in this case you have to throw Twitter into the picture – and I think they're putting themselves at risk in particular of losing the protection that content on their platform, they cannot be held accountable for that. So yes, I think Twitter has business ramifications of this decision."
—
9:59 a.m. ET: How impeachment could impact markets: UBS
Following the violent protests at the U.S. Capitol on Wednesday, lawmakers have increasingly called for the removal of President Donald Trump from office, even with his term coming to an end in fewer than 10 days.
For one thing, impeachment could ban Trump from holding federal office in the future, which would be impactful to investors who think Trump "has a political future that might matter," Donovan said.
"Impeachment may deepen the partisan political divide, making legislation more difficult to pass," he added.
Third and finally, "impeachment would take up time in the Biden presidency—and time is a scarce and valuable commodity in Washington, D.C.," Donovan said.